Mission Statement for Keeping My House Clean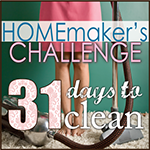 Today is the start of the homemaker's challenge which is based on "31 Days To Clean: Having a Martha House The Mary Way". I wasn't sure if I could start as I've been in bed all weekend with a horrible cold, but after looking at the challenge I knew I was up to it! Some may have started yesterday as that was May 1, but I will not be doing this on the weekends, and was relieved to discover that Sarah Mae said she wouldn't be planning on it either! :)
Today she challenged us to discover why exactly we want a clean house. She says in the book:
"If you do not own your reasons, you will be unmotivated and quite frankly, bored with the whole idea of persevering in cleaning."
For the Mary Challenge in the book, we are supposed to come up with a mission statement for why we want a clean house. This wasn't hard for me to do at all!
1. To bless my husband as he appreciates a clean house.
2. To show my children what order and harmony looks like and be a good example to them.
3. To have the house ready for company to drop by and not be embarrassed over how it looks.
4. To have more time to pursue playing with my children, hobbies, fun baking projects, etc.
For the Martha Challenge, I am supposed to take inventory of all my cleaning supplies.
I went and cleaned out the cabinet under my kitchen sink where I keep everything. I just invested in some new Shaklee cleaning products (check out this fantastic deal here under promotions) and so I was able to get rid of quite a few bottles, and really condense my cleaning supplies. Hurray! I have all the basics, the only thing I want to get is some more microfiber cleaning cloths. They work so well!
Do you have a vision of why you clean your house?
Labels: Home and Garden